As large enterprises scale to thousands of employees, locations, networks and devices, fragmented and piecemeal management of the resultant complexity quickly becomes untenable. Network integration provides the only path to unified end-to-end visibility, security, and control at massive scale.
This post will take a deep dive into why network integration is fundamental for IT leaders to streamline operations, reduce risks, and adapt nimbly as expansive business environments continue evolving rapidly.
Navigating the Complexities of Enterprise Scale
Consider the vast scope of today's large enterprise IT ecosystems:
Hundreds of branch office locations, campuses, and teleworkers dispersed globally, each with their own local area networks to connect users and devices.
Tens of thousands of networked endpoints including workstations, laptops, tablets, printers, IP phones, IoT systems, and more.
Numerous departments like finance, operations, marketing managing their own networks independently using fragmented tools and policies.
Vast arrays of interconnected applications, servers, appliances, cloud infrastructure and virtual network segments.
Highly distributed security controls and limited cross-network visibility into performance, configurations and threats.
Now add in the relentless challenges of continual merger, acquisition and divestiture activity generating more disjointed network domains along with exponential growth in mobile, cloud and IoT technologies that must connect securely.
This massive scale and fragmentation becomes highly disorderly and unmanageable without purposeful integration. Siloed networks lead to expansive blindspots in monitoring, inadequate least privileged access controls, and immense difficulties troubleshooting performance issues or security incidents.
The inefficiencies, risks and sluggish responsiveness of fragmented network environments motivate large enterprises to pursue integration initiatives.
Bringing Harmony and Order Through Network Integration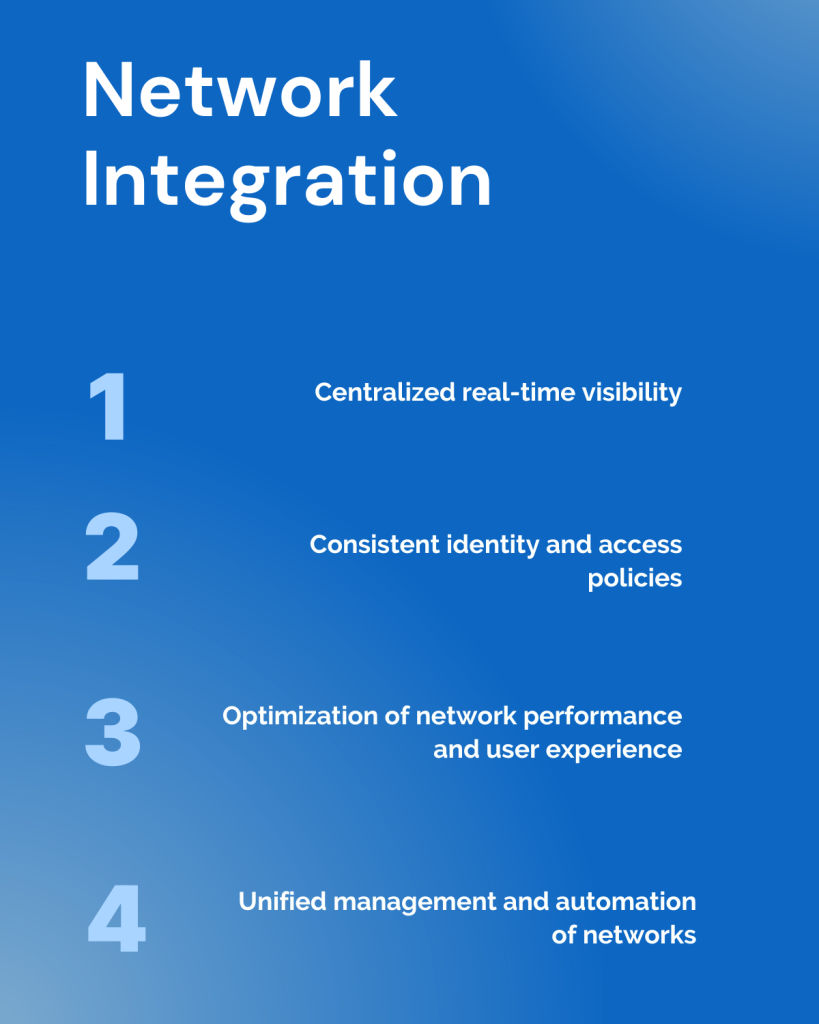 Enterprise network integration aims to deliver:
Centralized real-time visibility into health, traffic flows, performance metrics, configurations, and security events across the entire digital ecosystem. This illuminates issues and threats early.
Consistent identity and access policies, compliance controls, and traffic filtering to be designed once and enforced uniformly network-wide. Uniformity reduces gaps.
Optimization of network performance and user experience across LAN/WAN links, branch connections, and cloud/internet gateways.
Unified management and automation of networks, policies, events, and responses through a single pane of glass. This simplifies network operations.
By consolidating networks into an integrated whole, IT leaders gain order from chaos to master complexity at scale. Integration enables simplified, resilient network operations, fortified cybersecurity, and responsive adaptation to evolving business demands.
Core Strategies for Unifying Enterprise Networks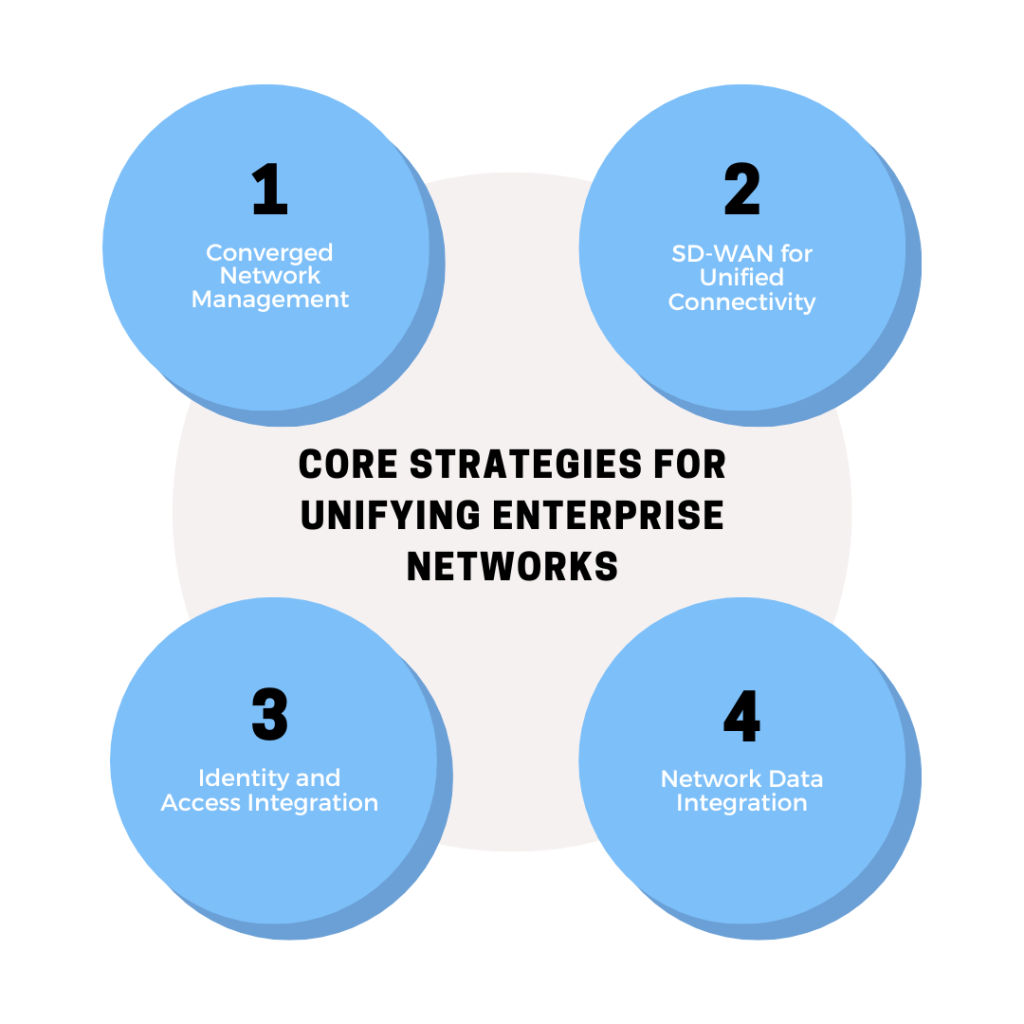 Large organizations leverage various techniques to achieve the benefits of integration:
Converged Network Management
Consolidating fragmented network monitoring, analysis and management tools into a centralized network operations center (NOC) platform enables IT to correlate insights and automate workflows across previously siloed network domains. Integrations with service desk systems also improve service delivery.
SD-WAN for Unified Connectivity
Software-defined wide area network (SD-WAN) architectures overlay logical networking on top of the existing physical infrastructure. This allows cost-efficiently synthesizing distributed branch locations into a single business-intent driven WAN with optimized performance, security and availability.
Identity and Access Integration
Extending robust identity management, access controls, multi-factor authentication and security policies uniformly across networks, cloud environments and applications circumvents dangerous gaps that would increase risk if left disconnected.
Network Data Integration
Ingesting and correlating data from networks, endpoints, servers, applications and cloud sources into security information and event management (SIEM) systems massively strengthens threat monitoring, detection and incident response by providing integrated visibility and AI-assisted correlation.
Leading Solutions Enabling Unified Network Environments
Robust network integration leverages specialized platforms across key domains:
Network Monitoring & Management – SolarWinds, PRTG, NetBrain
SD-WAN & Edge Networking – VMware, Cisco Meraki, SilverPeak
Identity & Access Management – Okta, Ping Identity, SecureAuth
Unified Endpoint Management – VMware Workspace ONE, Microsoft Intune
SIEM Solutions – Splunk, IBM QRadar, RSA NetWitness
Network Access Control (NAC) – Forescout, Aruba ClearPass
These solutions integrate with one another to achieve convergence. Professionally-managed integrations further optimize capabilities.
Methodical Best Practices for Network Integration Success
Meticulous planning and phased deployments minimize disruption stemming from major network integration initiatives:
Develop an integration roadmap aligned to key business goals like security posture improvement, digital transformation, network agility and IT efficiency. This maintains stakeholder alignment.
Conduct an in-depth audit of the current network environment including dependencies, chokepoints and risks to address. Establish a baseline.
Phase rollouts gradually starting with foundational visibility and access policy unification before advancing to infrastructure integration.
Maintain and gradually phase out legacy network domains as needed during transition periods to retain fallback capabilities as integration matures.
Achieving the Network Transformation Mandated by Scale
As large enterprise networks continue expanding both internally and into hybrid/multi-cloud environments, fragmented and disjointed management and security architectures cannot continue. Pursuing strategic network integration is fundamental to managing complexity, reducing risk exposure and responding to change at enormous scale.
While a multi-year endeavor, methodical network integration powered by converged platforms and techniques ultimately enables responsive, resilient and secure digital business futures. The network transformation journey requires commitment but offers immense rewards.
In summary, network integration forms the critical foundation large enterprises need to operate expansive digital environments holistically, securely and efficiently long into the future.
FAQs
What are some quick wins in the early phases of network integration?
An integrated NOC platform provides immediate consolidated visibility while extending identity and access controls rapidly improves security policy enforcement.
How does network integration impact enterprise IT teams?
It simplifies network operations through improved automation but also requires extensive cross-training staff across siloed domains like networking, security and cloud platforms.
What risks are created by incomplete network integration?
Poor visibility into shadow IT or rogue devices, lack of consistent finely-tuned access controls across networks, and distributed troubleshooting workflows across fragmented tools.
How can network integration support digital transformation initiatives?
It provides the visibility, access controls and flexibility IT needs to rapidly deploy new technologies like IoT sensors, mobile apps, SD-WAN and multi-cloud architectures securely and at scale.