More and more companies now turn to managed service providers (MSPs) to handle their technology needs. The worldwide market for managed IT services sits at $257 billion currently. With the wide range of offerings available, it helps to understand the primary types of managed services.
This article provides an overview of 6 key categories of managed IT services that businesses often use to improve operations, lower costs, and enable growth.
What Are Managed IT Services?
Managed IT services involve outsourcing the maintenance, support, and optimization of your technology systems to an expert provider based on a service-level agreement (SLA). Popular offerings include network monitoring, security services, help desk support, and more.
Benefits of managed services include:
Access to enterprise-grade IT expertise at an affordable price point
Ability to focus more internal staff on core business initiatives rather than maintenance
Proactive maintenance to improve uptime and security
A strategic partner to provide guidance on using technology to drive business growth
Knowing the main types of managed services allows matching options to your specific needs and gaps.
So Here are 6 Key Categories of Managed IT Services that Businesses Should Know: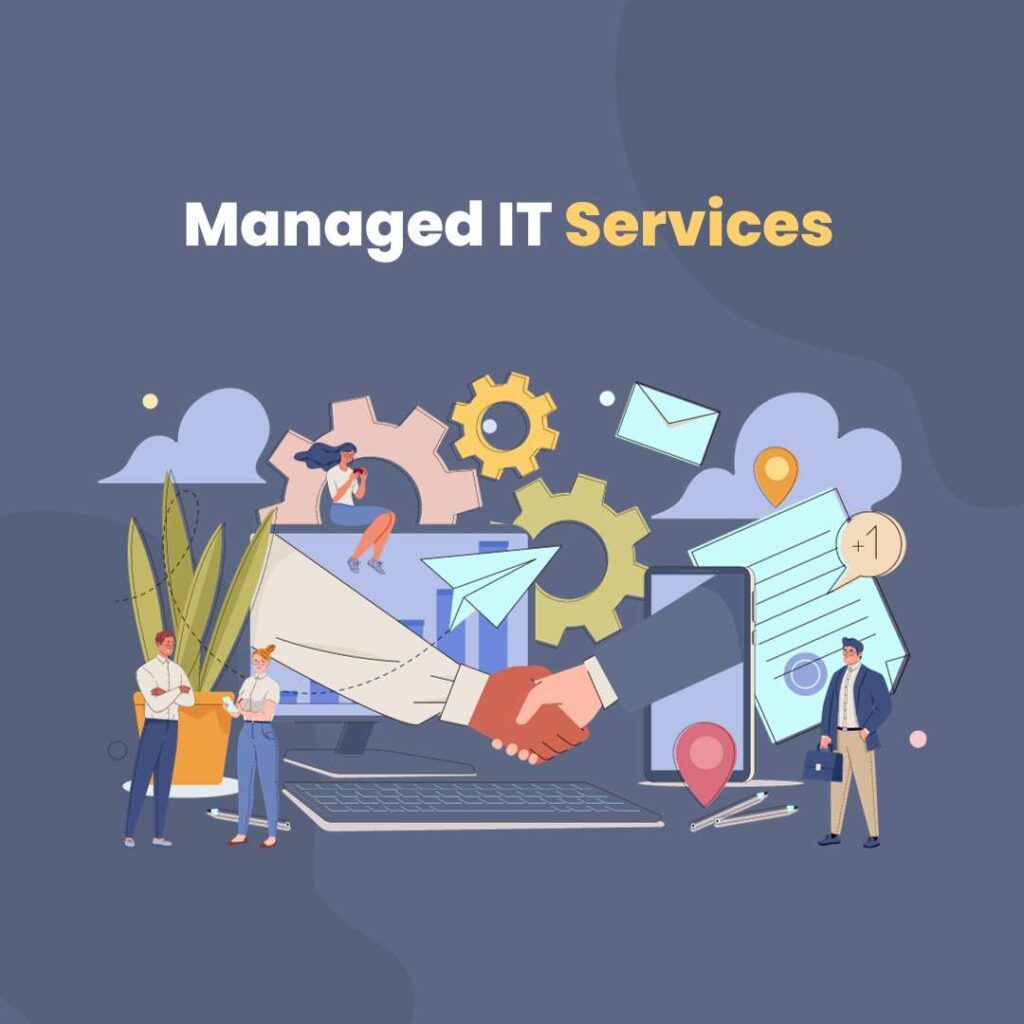 1. Managed Network Services
Managed network services provide 24/7 monitoring, management, optimization and support for a company's network infrastructure. This includes:
Proactive network management ensures critical communication systems achieve maximum performance and reliability.
2. Managed Endpoint Services
Endpoint services focus on the full lifecycle management of servers, desktops, laptops, smartphones, tablets and IoT devices across a company. Typical services include:
Planning, procurement, imaging, deployment of new devices
Installation and updates for endpoint security controls like antivirus
Software distribution, backup for data protection and disaster recovery
Remote 24/7 monitoring, troubleshooting and maintenance
Automated support dispatch when abnormalities are detected
Detailed reporting on asset inventory, compliance and system health
Managed endpoint services aim to optimize computing power while minimizing downtime.
3. Managed Security Services
Managed security services provide constant protection against cyberthreats and help demonstrate compliance:
Firewall, UTM device management, intrusion prevention
Securing end user access points and company-wide endpoints
Email gateway security, spam filtering, encryption
Security operations center augmentation with expertise
Vulnerability scanning/assessment, penetration testing
Log analysis to identify risks and threat intelligence
Assisting with regulatory compliance audits and reporting
Layered managed security services safeguard the digital assets that power an organization.
4. Managed Infrastructure Services
Infrastructure services take an integrated approach to managing entire technology environments rather than standalone systems. This can include:
Data center hosting, private/hybrid cloud services
Server, storage and information management
Backup, disaster recovery and business continuity
Virtualization optimization and administration
IT asset tracking and management
Ensuring infrastructure foundations operate optimally allows growth unrestricted by outdated systems.
5. Managed Communications Services
Communications services manage the tools that connect employees and link a company to customers:
Unified communications platforms, VoIP solutions
Call routing configuration, auto attendants, voice mail
Audio, video and web conferencing solutions
Call recording, quality monitoring and analytics
Cloud communication platform integration
Reliable communications systems and connectivity enable responsive collaboration across distributed teams.
6. Managed Help Desk Services
Help desk services deliver 24/7 service desk support for end users:
Live agents answering IT support calls at any hour
Ticketing systems for request tracking and documentation
Remote desktop control for fast diagnostics and troubleshooting
Software installation and patching to fix issues
Assistance with operating systems, applications, devices
How-to support for common programs and technical questions
Robust help desk services prevent employee productivity drains from small technology issues.
Picking the Right Managed IT Services
With the range of managed services available, companies can align solutions to internal gaps and business priorities:
Assess current pain points and areas needing specialized technical expertise.
Determine must-have capabilities versus nice-to-have.
Ask potential providers how they will define and meet your unique SLA criteria.
Examine providers' experience supporting organizations similar to yours.
Clearly articulate current and future objectives for the partnership.
Choosing MSPs tailored to your sector and needs drives maximum value.
FAQs
How do you choose the right managed IT services?
Conduct IT assessments defining gaps, goals and options. Create an RFP outlining your needs and compare provider proposals based on fit, expertise and SLAs.
Are managed services cheaper than staffing?
MSPs can provide significant cost savings over hiring experts by leveraging economies of scale. But weigh cost against the partnership level and services received.
What SLA terms should you look for?
Requirements like response times, resolution times, uptime guarantees, escalation procedures, after hours support, and performance reporting.