The landscape of enterprise IT infrastructure has undergone seismic shifts as technology has advanced. What began decades ago as on-premises servers crammed into spare rooms has given way to expansive high-tech data centers powering entire organizations.
Yet for most companies, the costs and challenges of owning and operating their own data centers have fueled a major transition – outsourcing these capabilities to specialized managed service providers.
This comprehensive guide will demystify managed data centers, illuminate the array of infrastructure services available, and demonstrate how partnering with experts unburdens enterprises to focus on strategic initiatives.
Defining the Managed Data Center
A managed data center refers to an offsite facility surrounded by servers, storage, networking, security, backup power, cooling systems and other infrastructure owned and administered entirely by a third-party provider.
These data center operators handle installing, configuring, optimizing, maintaining, supporting, and upgrading all the equipment and environments on clients' behalf on an ongoing basis.
Many organizations are now opting to outsource their data centers to managed service providers (MSPs) rather than continuing investment in on-premises data centers requiring expensive specialized staff.
The Key Benefits of Managed Hosting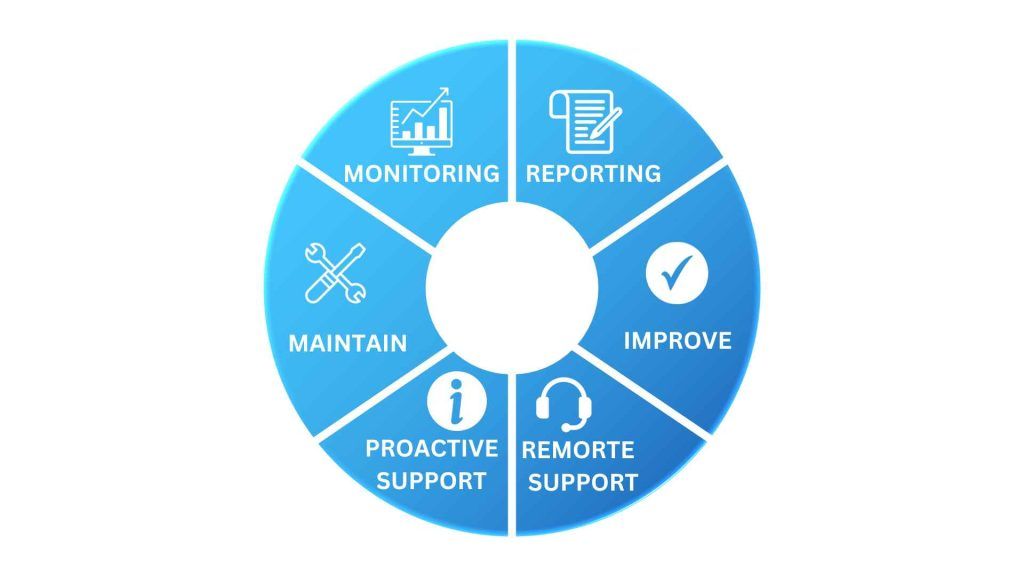 Trusting the hosting of critical IT infrastructure and applications to managed data center specialists provides enterprises with:
Enhanced scalability allows smoothly adjusting capacity to meet changing workload demands.
Hardened security protections including physical defenses, cybersecurity, and access controls vigilantly maintained by experts.
Superb business continuity through robust backup power, cooling redundancy, and comprehensive contingency planning.
Continuous 24/7 monitoring ensures outages are swiftly detected and remediated regardless of time.
Access to deep technical expertise in managing server, storage, network, and other environments beyond the capabilities of generalist internal IT staff.
For most organizations, outsourcing to managed data centers results in improved performance, security, resilience and agility while freeing up resources.
Understanding Managed IT Infrastructure Services
In addition to managed data center hosting, MSPs also offer comprehensive management and support of the entire IT infrastructure that runs within the data center – the "brains" powering modern enterprises.
This expansive set of managed IT infrastructure services includes:
Server Hardware – Procurement, installation, monitoring, maintenance, and lifecycle management of critical server machines.
Endpoint Hardware – Similarly, MSPs handle lifecycle management of organization-wide desktops, laptops, tablets, printers, and mobile devices.
Network Hardware – Management of routers, switches, firewalls, load balancers, and VPN concentrators.
Software – Installation, updates, patches, troubleshooting, and licensing for operating systems, databases, line-of-business applications, productivity software, and cybersecurity tools.
Cloud Environments – Migrating, managing, monitoring and optimizing complex cloud solutions spanning public, private, hybrid, or multi-cloud.
Data and Backups – Comprehensive data protection through modern backup, replication, and disaster recovery systems.
IT Processes – Patch management, IT automation, asset inventory, change control, monitoring and alert response are implemented to ITIL standards.
Some MSPs even provide partial or complete IT staff augmentation through dedicated technicians and engineers to support specialized initiatives or fill gaps.
Benefits of Managed IT Infrastructure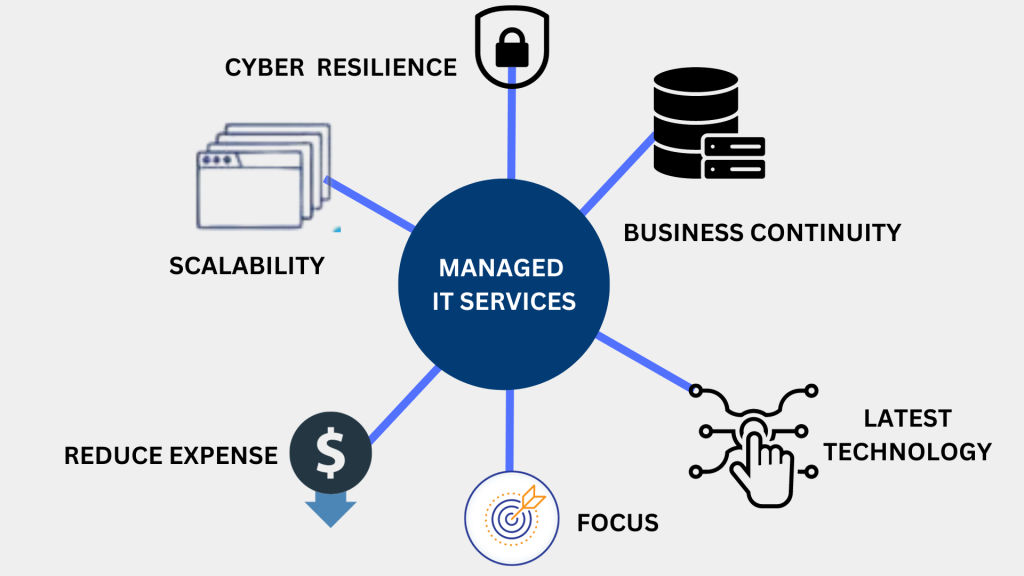 Source: global hitachi solutions
Outsourcing infrastructure and operations management to managed services provides enterprises with:
Reduced Expenses
Consolidating infrastructure costs and leveraging outside IT specialists eliminates expensive in-house IT headcount and facilities overhead. Economies of scale enable favorable pricing.
Access to Cutting-Edge Technology
Top MSPs maintain state-of-the-art architectures and continuously refresh technology to provide clients continuous access to the latest hardware, software, and cloud platforms as soon as available.
Enhanced Business Continuity
MSPs architect resiliency into infrastructure and implement robust disaster recovery mechanisms like redundant failover sites and advanced backup solutions minimizing downtime risks.
On-Demand Scalability
Managed infrastructure can expand or contract elastically based on changing workload demands rather than organisations having to procure new capacity in chunks. Resources scale cost-efficiently.
Fortified Cyber Resilience
Advanced cybersecurity technology and vigilance is built into managed services providing continuous detection and defense against infiltration, data breaches, and crippling attacks like ransomware.
Focus on Core Business
With infrastructure off their plates, organizations can direct more resources toward competitive initiatives rather than IT oversight providing greater agility.
Choosing the Right Managed Service Provider
Selecting the ideal partner enables realizing the full benefits of outsourced data center and IT infrastructure management. Key selection criteria include:
Years in Business – Select stable providers with long histories serving clients.
Industry Expertise – Seek niche experience tailored to your vertical and use cases.
Technical Expertise – Assess talent, systems, and proven ability to manage complex infrastructure.
Client Testimonials – Validate quality of service through reviews and client references.
Security Capabilities – Review security provisions, controls, compliance enablement and certifications.
Service Level Agreement – Examine response times, uptime guarantees, metrics, and accountability clauses.
Pricing Model – Compare monthly costs, multi-year discounts, custom quotes and contract flexibility.
While a significant relationship, taking the time to rigorously evaluate providers will maximize long-term infrastructure reliability, security and satisfaction.
Emerging Managed Infrastructure Trends
Exciting developments on the horizon will shape managed services, including:
Artificial Intelligence – AI will enhance detection, automation, optimization and reporting.
Edge Computing – Processing data where it's generated via distributed micro data centers and 5G.
As-a-Service Models – Consuming modular IT components on demand will expand.
Green Sustainability – Energy efficient designs and renewable power will be emphasized.
Conclusion
In today's highly complex and rapidly evolving IT landscape, leveraging managed data center and infrastructure services is mission-critical. Teaming with specialists unlocks immense benefits from security to availability while allowing companies to stay focused on business-driving initiatives rather than IT upkeep.
With a carefully selected provider, enterprises can confidently entrust the technology foundations powering their organization to fully managed platforms expertly optimized for scalability, resilience, efficiency and growth.
FAQ's
What is the difference between a traditional data centre and a managed data centre?
A traditional data center is typically owned, staffed, and managed in-house by an organization. A managed data center is operated by a third-party provider.
How do managed IT infrastructure services enhance business security?
Managed services offer advanced security measures, regular updates, 24/7 monitoring, and quick disaster recovery solutions.
Are managed data centres suitable for small businesses?
Yes, managed data centres offer scalable solutions that can be tailored to fit the needs and budgets of both small and large businesses.
How do I transition from a traditional to a managed data centre?
Transitioning involves assessing current infrastructure, planning the migration, and partnering with a reliable managed service provider to ensure a smooth shift.
What are the cost implications of adopting managed IT infrastructure services?
While managed services require an initial investment, they provide long-term savings by reducing overhead, capital expenditures, and costs related to downtime, security breaches, and inefficient operations if infrastructure was managed in-house.