These days many companies find they require help from outside IT service providers to fully support their technology needs. The two main options are managed services and professional services. While they sound similar, they offer quite different capabilities.
This article will break down the key differences between managed services and professional services to help make sense of it all. Getting clear on what each one brings to the table allows finding the right provider match for your business goals and needs.
What Are Managed IT Services?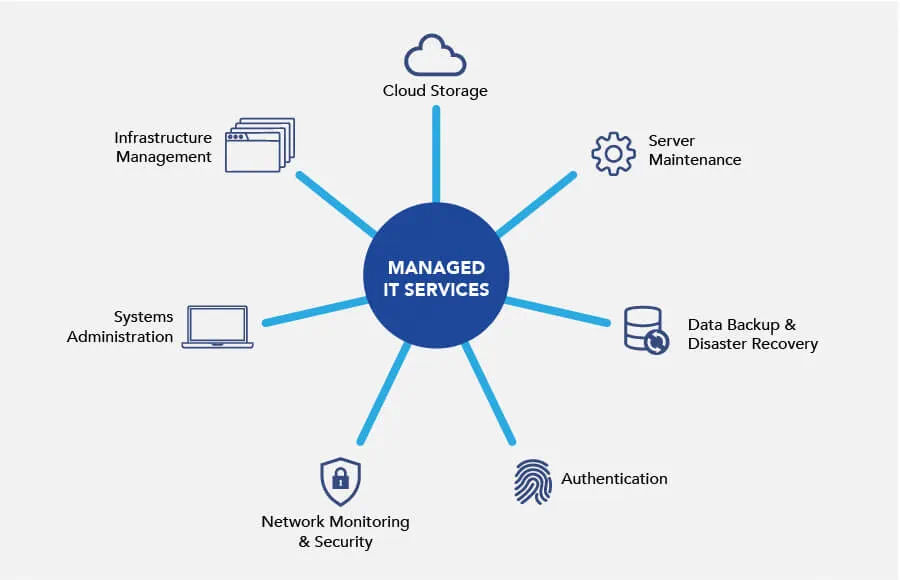 Managed service providers (MSPs) deliver continuous monitoring, maintenance and support for a company's IT infrastructure and operations, including:
Proactive Monitoring and Optimization – Managing and monitoring systems 24/7 to optimize performance, availability, security.
Help Desk Support – Providing trained staff to troubleshoot issues, answer questions and resolve incidents.
Cybersecurity – Managing firewalls, endpoint security, threat monitoring/response, vulnerabilities.
Cloud Management – Configuring cloud infrastructure, optimizing costs, ensuring workloads are tuned.
Backup and Disaster Recovery – Configuring and testing backups to ensure data protection and recoverability.
IT Infrastructure and Endpoints – Managing servers, PCs, devices, networks to maintain operations.
Vendor Management – Managing licensing, warranties, relationships across the tech stack.
MSPs take on responsibility for managing the environment day-to-day to meet key performance metrics and SLAs defined in a contract. Services are bundled into a subscription model based on the specific capabilities needed.
The focus is leveraging specialized expertise, best practices and automation to ensure smooth IT operations at a predictable monthly cost.
What are IT Professional Services?
IT professional services firms provide project-based services with clearly defined start and end dates. These focus on specialized skills to complete specific initiatives, including:
IT Assessments – Expert analysis of infrastructure, architectures, processes to identify improvement opportunities.
Upgrades – Assisting with upgrades of key systems like switching core banking platforms or ERP software.
Migrations – Helping migrate infrastructure and data to new systems or environments like the cloud.
New Software Implementations – Assisting with implementing and integrating major new applications.
Custom Application Development – Building custom mobile apps, software integrations, web apps based on requirements.
Staff Augmentation – Providing skilled temporary staff to fill gaps for initiatives and projects.
Professional services deliver targeted initiatives and then hand off operation to the client team once the project is complete. They bill either hourly or a fixed price per project.
How Do Managed and Professional Services Compare?
While both provide technology capabilities, managed services and professional services have distinct differences:
Relationship Length – Managed services involve an ongoing relationship under a long-term contract. Professional services have defined short-term start and end dates based on the project.
Scope – Managed services provide continuous holistic support across the environment. Professional services focus on specialized skills for specific project execution.
Work Model – Managed services are performed under a performance-based contract tied to SLAs. Professional services bill for time and materials.
Pricing – Managed services are priced as a recurring monthly subscription fee. Professional services are priced per project, change order, or hourly rates.
Value Focus – Managed services emphasize continuous optimization and enhancing operations over time. Professional services focus on timely project completion and delivery.
When Are Managed IT Services the Ideal Choice?
Managed services excel at providing:
Ongoing Monitoring and Maintenance – Continuous monitoring, daily maintenance, help desk availability.
Performance Optimization – Improving system availability, speed, efficiency, issues over time.
Cloud Management – Migration to the cloud and ongoing cloud infrastructure optimization.
Compliance-as-a-Service – Bundled services meeting compliance standards like HIPAA, PCI DSS, or ISO certifications.
IT Infrastructure and Operations Management – Keeping networks, endpoints, servers, apps running smoothly.
Managed services align best for supplementing in-house skills with specialized expertise focused on stability and reliability.
When Are Professional Services a Better Fit?
Professional services provide the most value for:
Major IT Transformation Initiatives – Massive projects like migrating fully to the cloud, modernizing legacy systems, or digital transformation.
Expert Assessments – Having experienced specialists conduct in-depth assessments spotlighting areas for optimization or improvement.
New Software Implementations – Assisting your team with integrating and rolling out major new applications like ERP or CRM platforms enterprise-wide.
Filling Temporary Skill Gaps – Providing staff augmentation for specialized skills that your team lacks for specific projects and initiatives such as data warehousing, custom application development, or network expansion.
Professional services align well for project-based initiatives versus ongoing operations.
Combining Managed and Professional for Complete IT Support
Many organizations actually utilize both managed services and professional services together for comprehensive IT support:
Managed Services – Handle keeping existing infrastructure and solutions performing reliably and cost efficiently.
Professional Services – Spearhead strategic new projects that create capabilities and future-proof environments.
Ongoing Management – Regular management prevents issues. Professional services implement enhancements.
Foundations + Innovations – Managed services sustain foundations while professional services drive innovations.
Together, the models provide complete IT coverage across operations, strategy and projects.
Key Differences Summarized
While the models overlap, the core distinctions include:
Managed Services – Deliver continuous support and optimization of infrastructure and operations.
Professional Services – Focus on expert skills to complete strategic projects and initiatives.
Managed Services – Provide reliable IT foundations and sustainment.
Professional Services – Drive innovations, improvements and transformations.
Together – Comprehensive IT capabilities organization-wide.
Making the Right Choice for Your Business Needs
While their capabilities interrelate, managed and professional services remain quite distinct. By getting clear on the key differences, organizations can determine the right provider match to meet their specific technical and business goals both now and in the future.
So which model is the better choice? It depends entirely on your particular requirements. Do you need ongoing infrastructure support and performance optimization? Or targeted expertise executing strategic initiatives and projects? The right option depends on your needs.
FAQs
Can professional services contracts be longer term?
Yes, for large strategic programs professional services may span multiple years. But individual statements of work would still have clearly defined durations.
Do managed service providers offer professional services as well?
Many MSPs have dedicated in-house project teams that can be hired for initiatives outside the managed services contract.
Is one model cheaper than the other?
Not universally. Cost depends on the specific services required, experience level of the provider, size of environment, location, and other factors.
What IT functions are best suited for managed services?
Day-to-day monitoring, maintenance, help desk, cybersecurity, backup & disaster recovery, network/system administration.
When are professional services most critical for a company?
For strategic initiatives like legacy modernization, custom application development, digital transformation programs, comprehensive IT assessments, and major new system implementations.