Banking today depends on technology innovation while adhering to strict regulations. Systems must provide near 100% uptime. Customers expect seamless digital experiences. Meanwhile, data security is paramount.
Financial services MSPs offer knowledge and capabilities to master these demands that can be difficult to achieve alone. By teaming up with MSPs for critical technology functions, banks gain elite expertise tailored to their unique environment. The advantages span enhanced security, optimized operations, controlled costs, accelerated innovation and improved customer experiences.
Financial institutions rely heavily on technology yet face intense regulation, security risks and complex legacy systems. Managed IT services provide expertise to overcome these challenges. This article explores 5 key reasons banks should partner with managed service providers (MSPs).
Here Are 5 Key Reasons for Banks to Use Managed IT Services: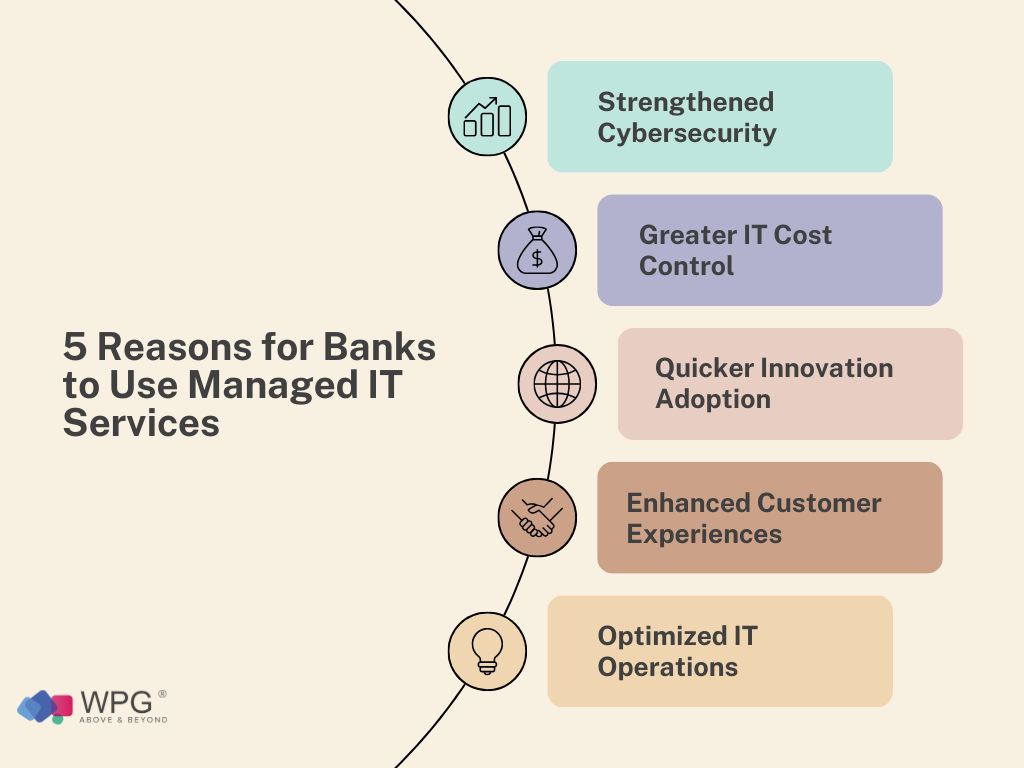 1. Strengthened Cybersecurity
Robust cybersecurity is non-negotiable for financial institutions. Breaches erode customer trust and bring heavy penalties. Partnering with MSPs specialized in banking security provides:
24/7 monitoring to rapidly detect and respond to threats
Layers of protection fine-tuned to banking's risks
Proactive reviews to identify and fix vulnerabilities
Ensuring compliance with strict data security regulations
This vigilant reinforcement hardens vulnerable infrastructure and applications. MSPs act as an extension of internal teams to lock down sensitive customer information.
2. Optimized IT Operations
MSPs optimize tricky backend infrastructure powering banking services. This includes:
Expert support for proprietary core banking systems
Meeting demanding performance and uptime standards
Ensuring configurations adhere to intricate financial regulations
Guidance navigating changing standards and requirements
This niche expertise allows bank IT staff to focus less on "keeping lights on" and more on improving customer experiences and business strategy.
3. Greater IT Cost Control
Partnering with MSPs shifts expenses from unpredictable capital expenditures to more steady operating costs. Key benefits:
Paying a fixed monthly fee for only services used vs purchasing hardware
Avoiding the need to train and hire specialized internal staff
Scaling services up or down as business needs change
Potentially lower overall costs by utilizing MSP resources
This converts uncertain capital outlays into flexible operating expenses aligned with actual usage. Banks gain access to enterprise-grade support without inflating headcount.
4. Quicker Innovation Adoption
To stay competitive, banks need agility to roll out new technologies fast. MSP partnerships provide:
Deep expertise in emerging financial services technology
Ability to rapidly test and deploy innovations
Insights into how new tech can improve banking products and processes
Guidance on selecting optimal platforms and tools
This speed of implementation and insider fintech knowledge help banks lead rather than lag on innovation.
5. Enhanced Customer Experiences
In banking, customer experience rules. MSPs contribute to excellence by:
Maximizing uptime and performance of customer-facing systems
Rapidly fixing any issues affecting customer service
Enabling omni-channel experiences blending digital and human touchpoints
With MSPs handling complex IT operations, banks can better focus on delivering seamless, personalized customer experiences that build loyalty.
Why Financial Institutions Should Consider Managed Services
While keeping key technology activities in-house seems logical, the reality of today's fast-changing, highly regulated banking environment warrants tapping into MSPs' specialized expertise. This lifts heavy burdens from bank IT teams, empowering them to drive forward the business.
Managed services enable banks to concentrate on core competencies while leveraging best-in-class partners for complex infrastructure, security, compliance and innovation demands. This is a win-win approach for optimizing focus and outcomes across the business.
Conclusion
Partnering with MSPs tailored to banking provides knowledge and capabilities that institutions often struggle to build alone internally. The multitude of benefits make managed IT services a smart play for optimizing security, operations, innovation and customer experiences.
FAQs
Can MSPs support legacy banking systems?
Yes, skilled MSPs maintain vast knowledge of core banking systems from major vendors that form key foundations at many institutions. This enables keeping decades-old platforms running reliably.
Are managed IT services suitable for small community banks?
Absolutely. MSPs provide an affordable way for smaller banks and credit unions to access enterprise-grade expertise that may be unavailable internally. The monthly subscription pricing model scales cost-effectively.
What security credentials should banks look for in an MSP?
Stringent certifications like ISO 27001, PCI DSS Level 1, and SOC 2 Type II validate that an MSP's security posture can handle the most sensitive financial data.