Technology now dominates nearly every aspect of the construction industry, from digital building designs to real-time project collaboration tools. But increased connectivity also introduces cyber risks that require proactive security mitigation.
In this comprehensive guide, we'll look at the rising cyber threats facing construction companies today, best practices for protection, and why leveraging IT security experts enhances defenses for the building trades.
The Rising Cyber Risk Landscape for Construction
As digital transformation accelerates across the industry, construction firms face rapidly escalating cyber threats:
Greater Reliance on Technology – From 3D planning software to IoT sensors on job sites, technology underpins competitive construction efforts but also increases risks.
High-Value Data Under Attack – Thieves covet proprietary project designs and bids, client personally identifiable information (PII), and other sensitive digital assets stored by contractors.
Recent Cyber Attacks in the News – Major international construction firms like Bouygues and Atkins have been severely affected by ransomware recently. Urban planners WSP also suffered an attack.
With more mission-critical infrastructure and operations connected, construction firms must prioritize cybersecurity.
Most Common Cyber Threats Targeting Construction Firms
Construction companies face an array of potential threats, including:
Phishing – Deceptive emails tricking employees into handing over credentials is often the first phase of larger attacks. Emails posing as vendors are common.
Ransomware – Malware that encrypts project files and drawings, crippling access until sizable ransoms are paid, has impacted many builders.
Data Theft – Client PII, proprietary project plans, and confidential financial information routinely end up on the dark web after being stolen.
Supply Chain Attacks – Partnering vendors, suppliers, subcontractors with weak security become vectors for penetrating otherwise more secure construction networks.
Insider Threats – Current or former disgruntled employees can intentionally profit from stealing and selling sensitive corporate data.
Financial Fraud – Compromised business systems like payroll, accounting, and invoices can be manipulated for financial fraud.
Building a Cybersecurity Framework for the Construction Industry
Construction firms should take three key steps to secure their digital assets and operations:
Assess Current Security Posture – Catalog existing systems, data stores, third-party connections and vendors to understand vulnerabilities.
Implement Multilayered Security Controls – Combine endpoint protection, network safeguards, access controls, data encryption and backups to protect against various cyber risk vectors.
Prioritize Ongoing Cybersecurity Training – Educate all employees on threats tailored specifically to the construction trade. Ensure everyone understands their role in security.
Cybersecurity Best Practices for Construction Companies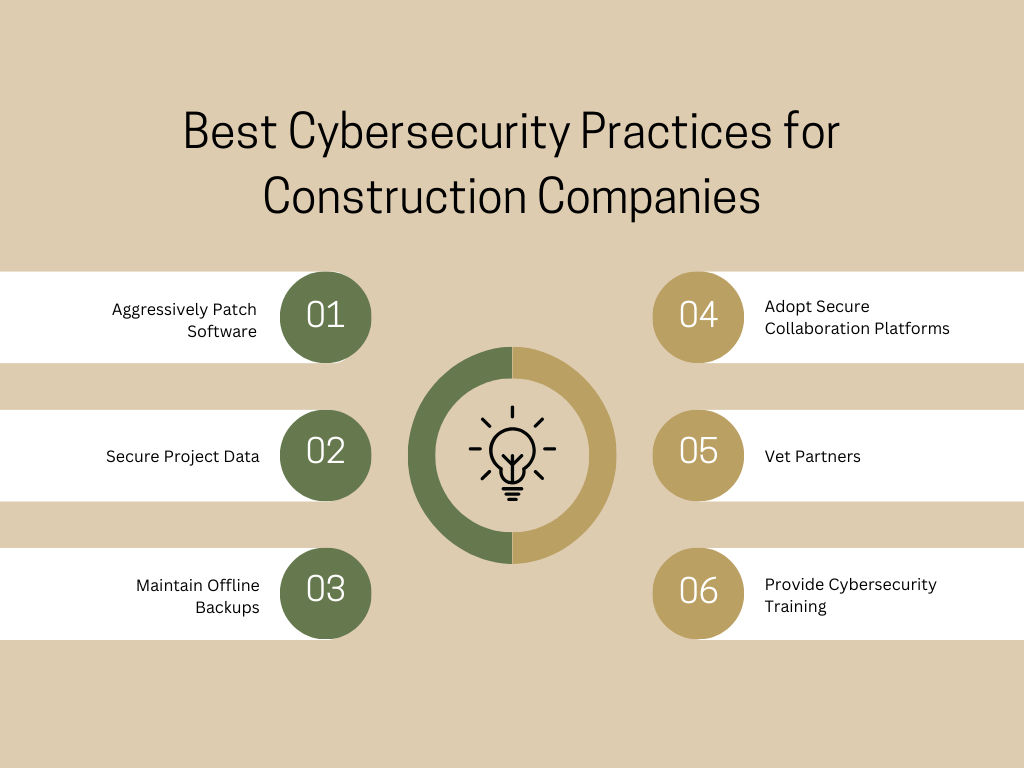 Specific controls IT teams at construction and contracting firms should look to implement include:
Aggressively Patch Software – Promptly install operating system, application, and plugin security updates across all devices as patches are released.
Secure Project Data – Lock down proprietary project plans, HR records, and other confidential digital assets via access controls and data encryption.
Maintain Offline Backups – Keep recent backups offline and immutable to enable recovery after any malware or ransomware incidents.
Vet Partners – Review the cybersecurity posture of vendors, suppliers, subcontractors and partners prior to sharing data access.
Adopt Secure Collaboration Platforms – Encrypted project management platforms allow securely sharing large files externally.
Provide Cybersecurity Training – Educate all employees on risks and how to identify potential phishing emails, suspicious links, and other common threats through simulations and videos.
Managed IT Services Provide Security Specialization
Given the specialized nature of construction industry cyber protections, partnering with managed IT services experts brings advantages:
Supplement In-House IT Staff – MSPs fill expertise and skills gaps related to data, network and endpoint security that construction IT teams often lack.
Proactive Threat Detection – Around-the-clock monitoring, behavioral analysis, and threat intelligence spot issues early before major damage.
Incident Preparation and Response – MSPs document playbooks so teams know how to respond quickly in the event of a successful breach.
Ongoing Management of Security Controls – MSPs stay on top of updates, enhancements, compliance requirements and architecture improvements.
Reinforcing Cyber Defenses Against Growing Threats
As adoption of digital building information modeling, internet-connected sensors, and automation increases, concomitant cyber protections are a must across the construction industry.
By weaving security into the fabric of strategic planning, project design, document management, staff training, and partner relationships, construction firms can confidently pursue technology-fueled competitive advantages while minimizing risk.
It takes both human vigilance and technical defenses working together to establish robust cyber protection. Prudent construction firms are choosing to partner with seasoned MSP cybersecurity experts to help secure their business and counter expanding threats.
FAQs
What compliance regulations apply to the construction industry?
Key standards like PCI DSS for payment systems, ISO 27001 for information security management, and regional privacy laws related to PII.
Which cyber threats pose the biggest risk currently?
Targeted ransomware attacks, business email compromise phishing campaigns, insider data theft, and third-party supply chain vendor attacks.
How can MSPs help construction firms improve cybersecurity?
Around-the-clock monitoring, updating protections against latest threats, auditing systems, providing expertise construction IT teams often lack.
What's the most effective security training for employees?
Realistic phishing and ransomware attack simulations, cybersecurity videos tailored to construction, followed by testing comprehension. Reinforce lessons.
How should firms prepare for fast response to cyber incidents?
Incident response plans detailing roles, communications protocols, technical steps, and practice drills. Plus partnerships with MSPs.